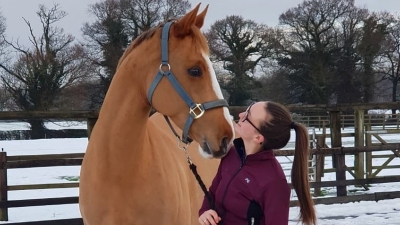 Tilly with owner Alice Burnside
---
Posted by MWE: 11.10 AM Tuesday 20 July 2021



A stunning chestnut filly by Doncaster Rover, Tilly Tinker was purchased from Doncaster Sales to run on the flat.

Tilly ran five times, recording one 3rd placed effort, before being retired from racing at the end of 2017 after finishing down the field at Newcastle.

Tilly was memorable for her lovely nature but also for the white marking on her side which is relatively unusual.

Tilly Tinker was rehomed by Alice Burnside, a friend of the horses' former owner Jason McIvor, of McIvors Equestrian, Agricultural & Pet Supplies, a face we know well as they supply our feed!

Tilly has thrived out of racing. A much loved member of the family she enjoys dressage and jumping and is an excellent riding horse, going to riding club every week.

Of her pride and joy, Alice says "Her little spot is just my favourite! I say it makes her a coloured and we skip all the chestnut mare business".

"She's a perfect all rounder and I couldn't ask for more!"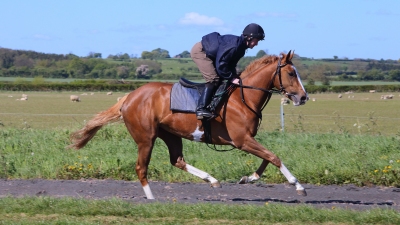 Tilly Tinker on the gallops, 2017
---

Tilly Tinker

---






Every Tuesday morning we update the BHA ratings.

| | |
| --- | --- |
| | Tue 27 July 2021 Link |










Brazen Beau 2yo wins for Paul Mulrennan on the Westwood

| | |
| --- | --- |
| | Tue 27 July 2021 |










We will be opening the yard for Racing Welfare in September.

| | |
| --- | --- |
| | Sun 25 July 2021 Link |










Stories of some of the racehorses rehomed from the stables recent years.

| | |
| --- | --- |
| | Sun 25 July 2021 Link |










Popular stayer and three times winner will enjoy our hospitality.

| | |
| --- | --- |
| | Fri 23 July 2021 |










Ex-racehorse Winterburn in his new career in the Yorkshire Dales.

| | |
| --- | --- |
| | Fri 23 July 2021 |