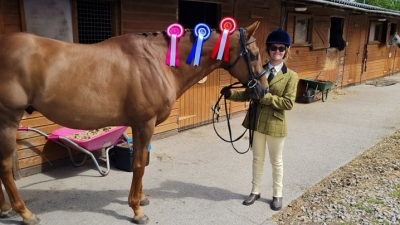 A successful career after racing
---
Posted by MWE: 12.15 PM Tuesday 20 July 2021



Wigram's Turn (USA) joined us from Andrew Balding and won at Wolverhampton in 2011. He is now 16-years-old for the last 14 months has been in the care of Tina Manning.

Sadly Wiggy had had an accident whilst doing cross country for a previous owner and this resulted in arthritic knees and both front fetlocks. Luckily Wiggy was acquired by Tina, whose interests lie in rehab, and she has worked wonders with him. She has got his diet right and he is happy and healthy and lives with Tina's daughter's 19-year-old Connemara pony Cherry.

Wiggy and Cherry are absolutely inseparable. Wiggy won't ever be ridden again.

Tina says "He is so funny, he makes me laugh every day! From tipping the wheelbarrow over, to dumping his brushes and on one occasion his whole grooming kit in his water bucket!! I understand from researching his past that he left your yard about 7 years ago, after being treated like an absolute king".

"He's my ginger pet and I literally love him to the moon and back! He's with me for life. I've taught him some tricks like saying please with his front leg for a carrot, giving you kisses for carrots and others. Thank you for finding lovely homes for your horses and please know that Wiggy is loved and cared for and will be to the end".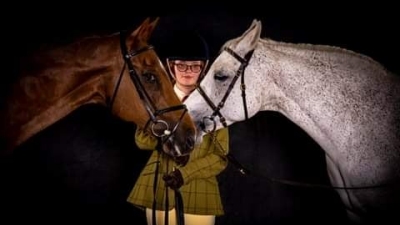 Wiggy and Cherry

---






Every Tuesday morning we update the BHA ratings.

| | |
| --- | --- |
| | Tue 27 July 2021 Link |










Brazen Beau 2yo wins for Paul Mulrennan on the Westwood

| | |
| --- | --- |
| | Tue 27 July 2021 |










We will be opening the yard for Racing Welfare in September.

| | |
| --- | --- |
| | Sun 25 July 2021 Link |










Stories of some of the racehorses rehomed from the stables recent years.

| | |
| --- | --- |
| | Sun 25 July 2021 Link |










Popular stayer and three times winner will enjoy our hospitality.

| | |
| --- | --- |
| | Fri 23 July 2021 |










Ex-racehorse Winterburn in his new career in the Yorkshire Dales.

| | |
| --- | --- |
| | Fri 23 July 2021 |