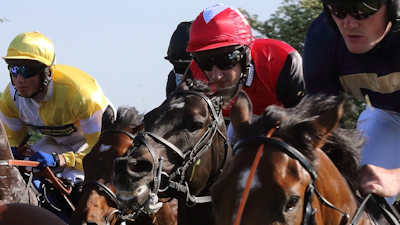 ---
Posted by MWE: 6.40 AM Sunday 16 February 2020



Ever wanted to ride competitively as a jockey?

Now's your chance. Mick Easterby Racing are looking for an apprentice jockey to ride on the flat this season.

We are also looking for experienced riders to ride work at New House Farm, Sheriff Hutton.

For riders with ambition to ride in competitive races will help you work towards an amateur riders' licence. Drop us a message on Facebook for more details!
---

Details here

---






We have a little capacity for horses temporarily out of training. £120 a week kept in light work.

| | |
| --- | --- |
| | Sun 05 April 2020 Link |










We are taking the current outbreak very seriously here at Mick Easterby's.

| | |
| --- | --- |
| | Sun 05 April 2020 Link |










We're locked down here at New House Farm so I'm getting on with some of the jobs.

| | |
| --- | --- |
| | Sun 05 April 2020 Link |










Darkandstormy's foal is progressing well

| | |
| --- | --- |
| | Sat 04 April 2020 Link |










BHA announces delay of the resumption of jump racing until the beginning of July.

| | |
| --- | --- |
| | Thu 02 April 2020 Link |










Unbelievable event recorded at Norton Grove Stud near Malton this morning

| | |
| --- | --- |
| | Wed 01 April 2020 Link |