The filly pictured the morning after suspected colic
---
Posted by MWE: 11.00 AM Tuesday 12 November 2019



Last night Steph Easterby spotted that one of the yearling fillies was poorly and showing signs of colic. Head lad Mark Cobb looked after the horse until 1 o'clock this morning until the wonderful Matthew Swarbrick and Katherine Hall from The Minster Equine Veterinary Clinic were on hand to look after her.

She has now recovered and the video shows her this morning, happy and healthy.

It shows the importance of constantly looking in on the horses and reacting immediately to any health concerns. Had she not been treated quickly the outcome might have been very different.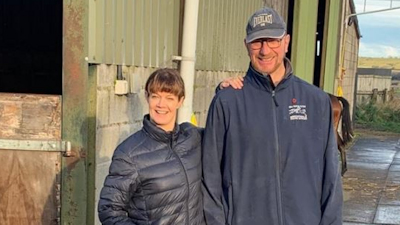 Steph Easterby and Mark Cobb
---

Eagle Top x Piece Of Magic

---






Chance to win a share in a racehorse, a yard visit and a night out with Mick together with other racing related prizes.

| | |
| --- | --- |
| | Fri 05 March 2021 Link |










A 25% share is now available in this winning son of Night of Thunder.

| | |
| --- | --- |
| | Wed 03 March 2021 Link |










Well Afford will excel in many fields such as ROR, eventing or dressage.

| | |
| --- | --- |
| | Wed 03 March 2021 Link |










Every Tuesday morning we update the BHA ratings.

| | |
| --- | --- |
| | Tue 02 March 2021 Link |










Yard seeks riders to ride racehorses ready for the 2021 flat season.

| | |
| --- | --- |
| | Fri 26 February 2021 Link |










Art and clothing from Tara Klein who runs the website and does the yard logos.

| | |
| --- | --- |
| | Wed 24 February 2021 Link |