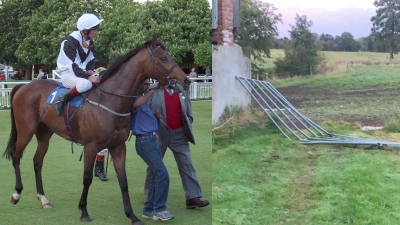 ---
Posted by MWE: 7.10 AM Friday 02 October 2020



I have some terribly sad news today about what has happened here overnight.

Poaching is rife at the moment in Bulmer and surrounding areas.

Last night at Mill House Farm, Bulmer, a herd of yearlings and their nanny horse, my wonderful 21 year old ex-racehorse Blue Spinnaker, forced their way out of a large field last night/this morning by pushing over a hung metal gate. Blue Spinnaker suffered horrific fatal injuries and a number of yearlings have been badly wounded. The horses were reported on the road this morning in a state of shock.

There are vehicle tracks in the field not belonging to us. Herds of horses generally do not panic in this way unless they feel threatened.

I have reported this to the police who will be coming to visit.

Poaching is a priority offence meaning you call 999 to report if you witness it in action. The more they are reported the better response we will get; regular evening patrols. Poachers are unsavoury characters and can also be interested in farm contents (quad bikes/tools etc) so the more deterred they feel the better for everyone.

If you do see or suspect anything would you please report it.

---






Every Tuesday morning we update the BHA ratings.

| | |
| --- | --- |
| | Tue 01 December 2020 Link |










Racehorse ownership for £100 a month

| | |
| --- | --- |
| | Mon 23 November 2020 Link |










Now available, to race on the flat as juveniles in 2021.

| | |
| --- | --- |
| | Wed 07 October 2020 Link |










Yard seeks riders, opportunities to ride as an amateur jockey.

| | |
| --- | --- |
| | Mon 28 September 2020 Link |










Aphaea at Hamilton kicks off another jockey career

| | |
| --- | --- |
| | Sat 26 September 2020 Link |










Bid for some authentic Michael Easterby clothing!! Proceeds to the YAA.

| | |
| --- | --- |
| | Sat 26 September 2020 Link |