Shares Available

We are inviting members to join us in our new Racing Club with an exciting team of horses. Eagle Creek, a multi-winning new acquisition to the yard, joining us from William Knight, So Grateful, a 3-year-old sprinter, born and raised at Stittenham and an unnamed Mayson colt out of La Gessa, bought at Tattersalls Yearling Sales. Prices will be all inclusive of training fees, jockeys' and vets' fees, race entry fees, and trainers' expenses. There will be nothing else to pay for the year.

This will be an ongoing racing club that will give you a year's membership from joining.

The Club will include:

- Open mornings at the stable to watch the horses work
- Badge draws when the club horses run
- Progress reports on the club horses
- Pre-race Trainers Comments and Post-race jockeys' reports
- Racing insights into the club horses from Mick and David
- Naming competition for the yearling colt
- Welcome pack and glossy photos of your horses


You can download the brochure here.


Price:
---

&pound59 for one year's membership.


Paypal
---

The Paypal link for the Club is here.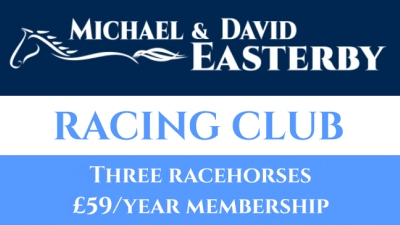 Horses
---
Eagle Creek
So Grateful
Unnamed (00 La Gessa)
Shares can be purchased here.
---

Contact: Caroline on 07583 000 389

Michael & David Easterby
New House Farm
Sheriff Hutton
York
North Yorkshire
UK
YO60 6TN


Entries and Runners